Background info
Both Mike* and Liam* are teenagers who attend the same school. In October 2021, whilst at school Liam has deliberately tripped Mike over which has resulted in Mike falling onto the floor. Mike sustained a broken forearm requiring metal plates to be put into his arm. The police officer investigating the incident said that this was an unprovoked incident. Mike and Liam are in separate year group and did not know each other before the incident.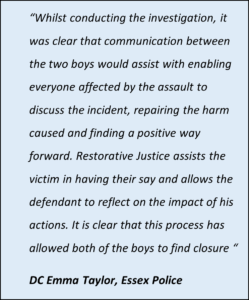 Initial meetings – Mike
Essex Restorative and Mediation Service facilitators, Doug and Abby, met with both families separately to discuss what happened and the reasons both boys would like to take part in a restorative process. Mike told them how he had just finished his geography lesson and was using a shortcut to get to his next lesson, English. En route, Mike was purposefully tripped by Liam (whom he didn't know at all and fell down hard onto a drain. Immediately after falling, Mike knew something was wrong and looked at his arm. He was initially shocked and then it hit him that he had broken his arm. He was devasted to learn this. His arm had just healed following a break sustained 6 months earlier on his bike and the thought of going through the same healing process again was terrifying and painful. Mike began to cry and was taken to pastoral care by some Year 10 students where an ambulance was called. He had to undergo an operation to have a metal plate and two pins placed into his arm which was a petrifying experience for 13 year old Mike. Mike was worried that he would lose all strength in his arm and would have restricted movements for life. Fortunately, his arm improved and got back to full strength. 8 months after the incident, he finally started to feel more confident.
Mike explained that he really appreciated the work that the Police put in, and was glad the perpetrator was identified. The fact that he doesn't know the person who hurt him caused a significant grievance for him. Mike wanted to take part in a restorative process because he wanted an apology but also, he wanted to have an opportunity to explain to the harmer the impact of his actions. Mike had also some questions he would like Liam to answer – such as why Liam decided to trip him and what did he think would happen? He said he would prefer to meet with Liam in person so that he can show him the true impact and make sure something like this will not happen ever again, not to him and not to any other student. Mike said he is ready to forgive Liam for his actions, but he would still have a bad feeling about his because of what happened. He wanted Liam to accept the consequences of his actions and truthfully, get some closure.
Mike's parents also explained the impact the incident has had on Mike and the rest of the family. After the incident, Mike has become very unhappy at school and the family had applied to move Mike to a new school. Mike would become quite angry and would have angry outburst, which was difficult for the rest of the family to experience and manage. Mike's parents expressed deep disappointment in the student responsible for hurting their son.
Initial meetings – Liam
A few days later Abby and Doug met with Liam and his foster carers to discuss the referral made and their willingness to take part in the process. Liam told them what happened on the day from his point of view. He was in the corridor between lessons, and he saw another student running in his direction (but not toward him). Liam thought it would be funny to stick his leg out to trip the student up, so this is what he did. Liam was completely unaware that the student may have been upset about being tripped up and did not stop to check on the student before carrying on to his next lesson. It was only later on when he learned that the student had broken his arm, which caused Liam to feel really bad. Liam was suspended as result of the incident. Liam explained that he apologised to Mike already and they have spoken to each other. Liam said he would be more than happy to meet with Mike and apologise again to help him move past the incident. He also said that what happened on the day has been hanging over him for months and he seems not to be able to shake it off, despite making an apology once before.
——————————————————–
Facilitator Quote:
"The initial meetings, held in the family homes were used to explain the RJ process and gain the trust of the participants and their families. By emphasising our impartiality and encouraging the boys to identify what they wanted from the process we were able to plan the structure of the joint meeting. Both boys were initially quite reticent but it became clear that they were committed to a joint meeting. The parents were supportive and played an important role in making the process a success".
——————————————————–
RJ meeting
Both boys met in July 2022 (9 months after the incident), accompanied by their parents. The conversation wasn't easy but both Mike and Liam understood they needed it in order to move forward and finally, close this chapter once and for all. Liam apologised once again for what happened. Mike not only acknowledged the apology and accepted it but also understood that Liam's actions were a prank gone horribly wrong and he did not intend to break his arm. Both had an opportunity to be heard, listen to what the other person had to say and learn from the incident. At the end of the meeting, the boys voluntarily shook hands as a sign of moving on. Amongst other future plans, Liam agreed to write a letter promising change of behaviour. The letter read:
"I am writing to apologise for what I did to you. At the time I thought it was funny and I didn't realise how much I hurt you until I was told. I did not think about the impact it would have on you and your family. I also apologise for not coming back to you to check if you were alright. I still get days where I think about it and cry because of how badly I hurt you. But I am happy that you can forgive me for the damage I have caused you and your family. I will never forgive myself for what I have done to you and your family. I am also happy that we have started to talk a a little bit at school as well now."
Follow Up 
The facilitators followed up with the boys a few days later. Mike felt the meeting went really well, allowing him to get everything he wanted out of the meeting. What makes our process great is facilitator's impartiality – they weren't there to judge or point fingers at anyone. In his feedback, Liam mentioned that due to being able to feel safe, he thought the meeting went extremely well and was something he needed to in order forgive himself for what he did.
Mike and Liam's story is another example of how restorative process can repair the harm that has been caused. Sometime harmers feel so much guilt over what happened, they forget to forgive themselves for what happened and the only person who can help them towards forgiving themselves is the victim.
——————————————————————————————————————————————————————————————————————————————
"We would like to add our sincere thanks to you all for such a fantastic service. [It] is a fantastic mechanism to allow resolution to be achieved and we would recommend anyone to use this service should it be right for them. The process was very helpful in achieving closure over what was a very difficult time for our son. Having the opportunity to meet face to face with the other party and allow him to explain the impact this incident had made on his life was invaluable to him and to us as a family and allowed us to obtain the closure we and I am sure the other party needed". 
Mike's father

——————————————————–
We received an initial phone call from the Essex Restorative and Mediation Service, briefly explaining the Restorative Justice system and enquiring whether we, and more importantly Liam, would be willing to partake in the process. From the outset they were open, warm and friendly, taking time to explain how the whole process worked and what they hoped to achieve for both families.  They offered support every step of the way over the phone and in person.  Doug and Abby were present at the meeting and encouraged both boys to open up and share their feelings with one another without being influenced or put 'under pressure' by us (the parents) and through their experience, planning, impartiality and relationship they had built with Liam, guided the meeting to a successful  conclusion.  Liam regretted his actions from the outset and this process has given him the opportunity to reflect, be able to voice and show how sincerely sorry he was and move forward with a newfound maturity and appreciation of how actions affect others. We are very happy that we were able to take part in this as we feel closure for all has been achieved.
Joanna, Liam's Foster Carer